Anna-Greta fyller två år! En ganska varm dag, så hon var rätt trött, men det var ändå roligt med besök och presenter. Speciellt roligt var det att bada i barnpoolen på gården med kompisen Sebastian efter tårtan.
I år klarade hon förresten galant av att blåsa ut ljusen på tårtan!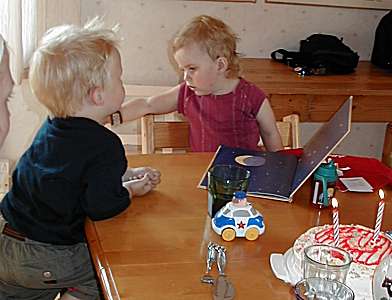 Anna-Greta's second birthday. A warm day, so she was pretty tired, but it was fun with visitors and gifts. Especially fun was bathing with friend Sebastian in the kiddy pool outside.
By the way, this year she easily managed to blow out the candles on the cake.