Anna-Greta fick en babydocka med vagn i födelsedagspresent. Hon begriper sig inte riktigt på den ännu, men här försöker hon i alla fall lära babydockan att hamra...
När syskonet föds i slutet på året kan det nog vara pedagogiskt att ha en egen baby.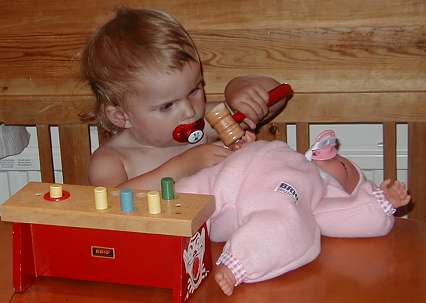 Anna-Greta got a baby doll and a pram for her birthday. She doesn't really understand it yet, but here she is at least trying to teach the doll how to use a hammer...
When her sibling is born, at the end of this year, it might be useful to have a baby of her own.