Den Stora Hårsnoddskonflikten:

Anna-Greta är mycket förtjust i hårsnoddar, men vid denna historias början hade hon inte så många egna. Därför ville hon gärna ta med sig andra barns hårsnoddar hem från förskolan. En eftermiddag resulterade detta i en mycket ilsken konflikt med pappa som förgäves försökte få på henne overallen och köra hem henne. Lösningen var att åka och köpa hårsnoddar, en massa hårsnoddar (134 st).

Nästa dag hade Anna-Greta med sin lilla ryggsäck full med hårsnoddar till förskolan. Men det räckte inte. Genast hon såg en hårsnodd stoppade hon snabbt ner den i sin ryggsäck, oavsett vems den var. Sedan delade hon välvilligt ut hårsnoddar till barn och personal ur sitt förråd...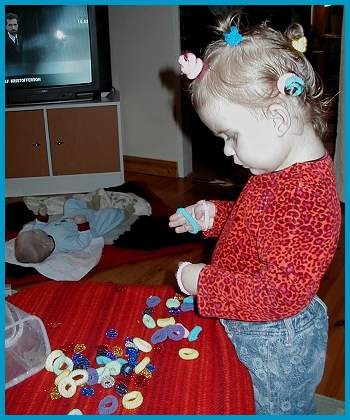 The Great Hair Band Conflict:

Anna-Greta likes hair bands a lot, but when this story begins she didn't have that many of her own. Which was why she often wanted to bring other childrens' hair bands home with her from pre-school. One day, this resulted in a rather fiery conflict between her and Dad who tried in vain to get her into her overalls and take her home. The solution was to go buy hair bands, lots of hair bands (134 pcs).

The next day, Anna-Greta brought her little backpack filled with hair bands to pre-school. But that wasn't enough. As soon as she spotted a hair band, she put it in her backpack, no matter whose it was. Then, she graciously gave out hair bands to children and staff from her stock...