Anna-Greta fyller tre år! Det här är första året som hon är riktigt medveten om att hon ska ha födelsedag, så vi gjorde till oss litet extra.

Först "Ja må hon leva" och present på sängen. En eltandborste fick hon - tandborstning har alltid varit en av hennes största "hobbies".

Sen hade det vuxit upp ett godisträd i grönsakslandet!

På dagen kom farmor med familj och hennes första trehjuling.

Nu är det bara barnkalaset kvar som går av stapeln på lördag (24/7).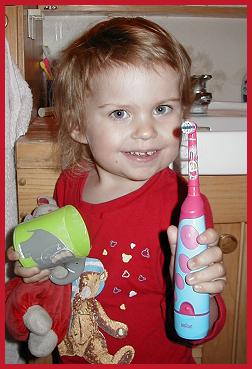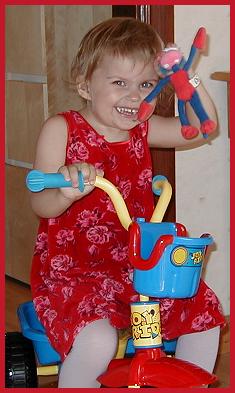 Anna-Greta is three years old! This is the first year she is really aware she is having a birthday, so we made an extra effort.

First of all we sang and gave her gifts in bed. An electric toothbrush was the gift - she has always had brushing her teeth as a big "hobby".

Then, a candy tree had grown in the garden.

Later in the day, (paternal) grandma and family came with her first tricycle.

The birthday party with kids is coming next, on Saturday (July 24th).